1 Best Designs Bandhej and Bandhani, Dupattas, Sarees and Dress Material in all types of silk and cotton.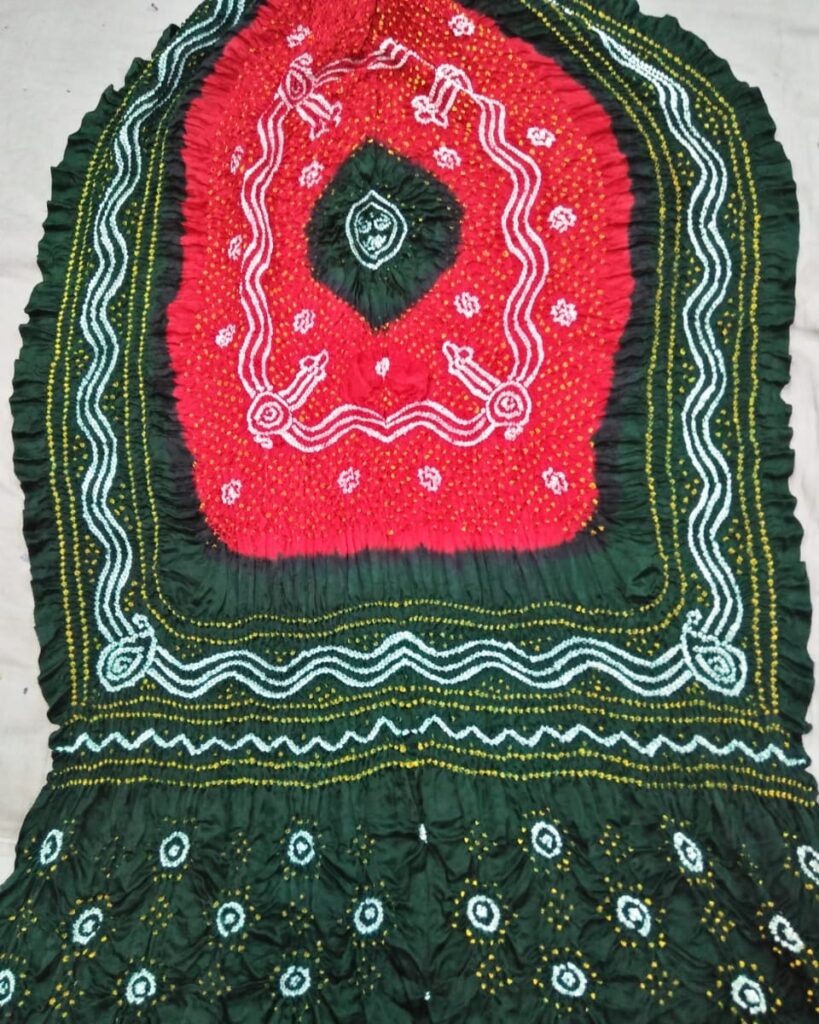 Bandhani, one of the oldest known methods of tie-dyeing, is still widely practiced in western India today. The fabric is made by pinching very small portions of cloth and tying them by plucking the cloth with the fingernails into many tiny bindings that form a figurative design to form an intricate pattern of dots.
2 Best Modal Silk Ajrakh Ajrak Handblock printed Dupattas, Sarees and Suit Materials with Eco-friendly Natural Dye Colours.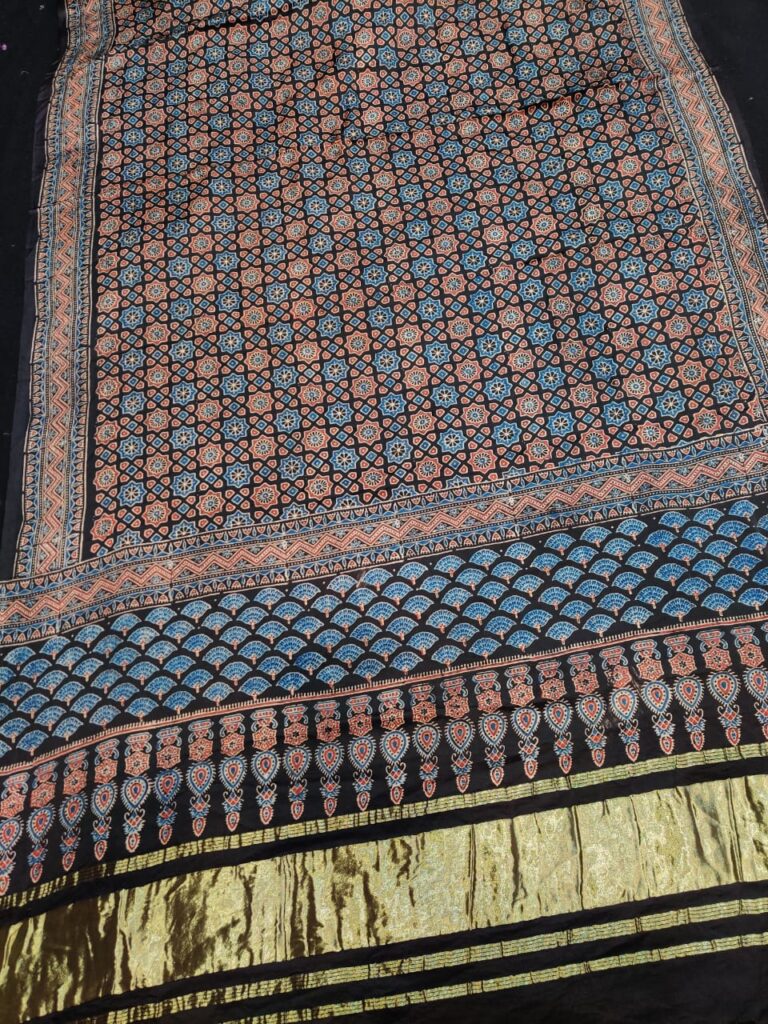 To identify ajrakh one needs to look for fabric with a background of red or blue (though other vegetable dye colours like yellow and green have been introduced) Traditionally four colours were used red (alizarin), blue (indigo), black (iron acetate) white (resist).The authentic Ajrak is printed on both sides by a method called resist printing. The printing is done by hand with hand carved wooden blocks. Several different blocks are used to give the characteristic repeated patterning. Ajrakhpur is where Kutchi artisans and craftsmen who do block-printing live and work . The art is called 'Ajrakh' and the village derives its name from that. 'Ajrakh' denotes the slow, painstaking process in which the artisan proceeds step-wise.Ajrak or Ajrakh is a unique block printed textile. It displays special traditional designs and patterns. Ajrak follows a detailed block printing technique of decorating fabrics. Generally, Ajrak is printed on both sides by resist printing method. The printing is done by hand using hand carved wooden blocks.
3 Pure Georgette Banarasi Bandhej Handloom Sarees and Dupattas.
These delicate strips are then wound around silk yarns. The threads are then flattened using machines. Often they are passed through a brightener to increase their sheen. While motifs are crafted out of zari threads, the rest of the saree is usually made of silk that is dyed in a variety of colours. It is a type of silk that is made by twisting the filaments of silk together, resulting in durable and sturdy fabric. Banarasi Katan silk sarees are the most popular type of fabric and are essential for the bridal trousseau. Kora silk is also known as organza, it is used in designing comfy and lightweight outfits.
4 Handcrafted Handmade Fabric Jewellery.
Best Artisan Hands Handmade Handcrafted Farbic Jewellery with colour customization available.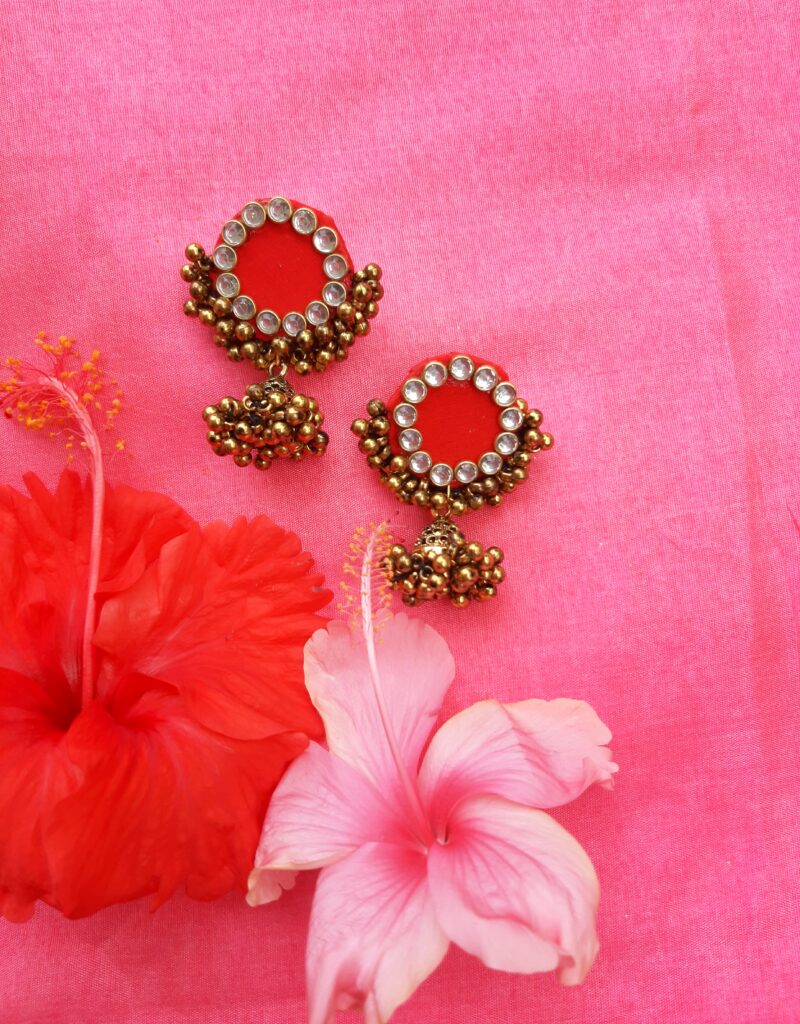 5 Best Handcrafted Handmade Punjabi Jutties In All variety available.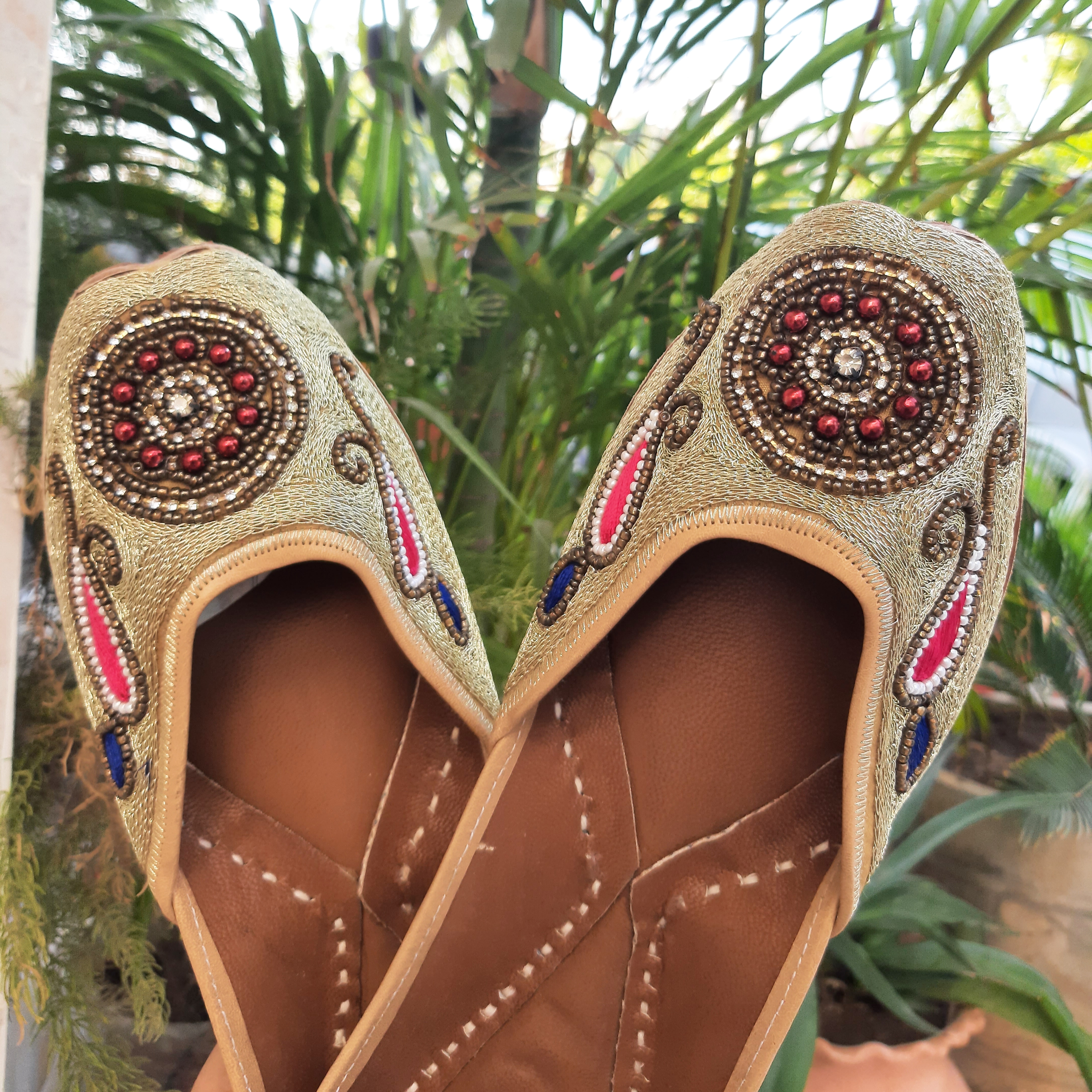 Punjabi Jutti, also known as Jooti, Khussa and Mojari is a handcrafted footwear made of leather which is beaded and embroidered with silk threads and sequins. It can be worn from day to day life, weddings, religious occasions to parties and festivals. The jutti (Punjabi: ਜੁੱਤੀ) or Punjabi Jutti (Punjabi: ਪੰਜਾਬੀ ਜੁੱਤੀ) is a type of footwear common in North India and neighboring regions. They are traditionally made up of leather and with extensive embroidery, in real gold and silver thread as inspired by Indian royalty over 400 years ago. Jutti uppers with a circular punched design. Different types of stencils used to create punched designs. A craftswoman adding a line of metallic thread embroidery to a shoe upper. While men do the cutting, assembling and stitching of the jutti, the work of adding design and embellishment is done by women artisans.